4 color 2 station silk screen printing kit with flash dryer t-shirt printer stretched frame squeegee
cheonet
This is a good screen printing kit for some small and new screen printing business, just buy some chemicals to start your printing career!!!
4-2 screen printing machine
The 4 Color 1 Station desktop screen printing machine can simultaneously install four screen plates and the screen layer can rotate independently after installation,which is available for four colors' overprinting and making progressive proofs of screen printing business.
Applications:
The machine can print onto clothing (especially for T-shirt), woven fabric, metal, paper, copybook, plastic, circuit board, wood, glass, ceramic tile,leather and other plane printing substrates, which is especially suitable for small businesses and individual printing shop.
Features:
1.Simple, but rational and more practical constructions
2.Table type and combinatorial design saves place and convenient for transportation.
3.Screen printing platen layer can rotate independently which is easy operated with higher efficiency.
4.Adjustable double-spring devices are available for screen frames of different weight.
5.Screen clamp can be moved up and down, which is suitable for screen frame within 3cm thickness.
6.Big supporting device keeps the machine stable and in balance.
7.All-metal construction, advanced electrostatic spraying and electroplating, durable, easy to clear and no rust.
8.Equipped with full set of installing tools, manual instructions, installation and operation videos.
Excellent packaging: All our equipments are perfectly packaged by high-strength five-layer corrugated carton, inside with standard soft and hard foam and three-ply board, all metal parts are separately packaged, which guarantees product safety during transportation.
Parameters:
Color:4 color
Station: 2 station
Platen size: 21.7*17.7" (55*45cm)


1800W screen printing flash dryer
Main Features:

Foundation is consistent with heating box ,stable, saving-space and overcoming the flaw caused by traditional ""that easily gets knock and stuck.
Easy operation: After well installed, connect the power supply and turn on the switch and then it will work automatically.
With four universal wheels, easy move.
Sturdy design with powder coated housing to prevent rust.
US, Canada Plug standard
Easy assembly. with a few bolts you have a flash that's ready to be put to work.

Parameters:
Input voltage:110V/220V
Power:1800W
Baking area reaches 18"x24" (45x60cm).
Weight:75Lb (34kg)
Crate Dimension: 34"x20"x14"(86x51x36cm)
With CE Certificate
Items included:
1. 1 set of 4 color 2 station screen press
2. 1 set of 1800w screen printing flash dryer
3. 4 pcs of pre-stretched 40*50cm screen frames with 120M
4. 4 pcs of 33 cm squeegee
5. 1 pc of 35cm emulsion scoop coater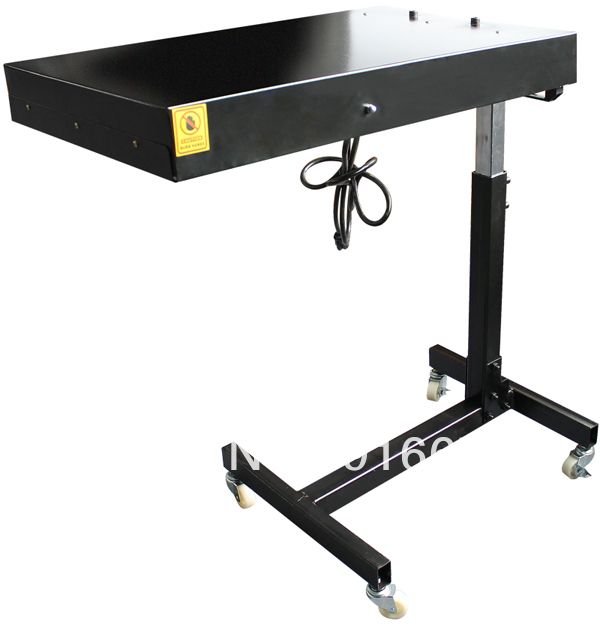 Your cart is currently empty.