6 color 6 station silk screen printing kit t-shirt printer press equipment stretched frame squeegee
cheonet
This is a good screen printing kit for some small and new screen printing business, just buy some chemicals to start your printing career!!!
The 6 Color 6 Station desktop screen printing machine can simultaneously install four screen plates and the screen layer can rotate independently after installation,which is available for four colors' overprinting and making progressive proofs of screen printing business.
Applications:
The machine can print onto clothing (especially for T-shirt), woven fabric, metal, paper, copybook, plastic, circuit board, wood, glass, ceramic tile,leather and other plane printing substrates, which is especially suitable for small businesses and individual printing shop.
Our 6 Color 6 Station Screen Press can apply 6 screens to 6 stations simultaneously. The the screen layer and the pallet layer can rotate independently, which makes it easier for multi-color printing, material loading and unloading and finally will bring much wider range of applications and faster printing effects.
If it is not free shipping to your country, please just feel free to contact us for the detailed shipping cost.
Applications
It can be applied to costume, woven fabric, metal, paper, copybook, plastic, wood, glass, ceramic, leather and other products which need flat printing
Parameters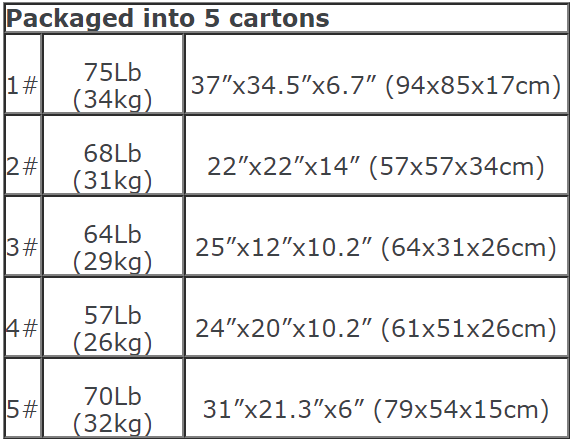 Foundation Size: 36"x36"x23"-32.5" (92cmx92cmx59cm-83cm)
Machine Size: 84"x84" (214x214cm)
Pallet Size: 17.7"x21.7" (45x55cm)
Net Weight: 306Lb (139kg)
Gross Weight: 335Lb (152kg)
Packaged into 5 cartons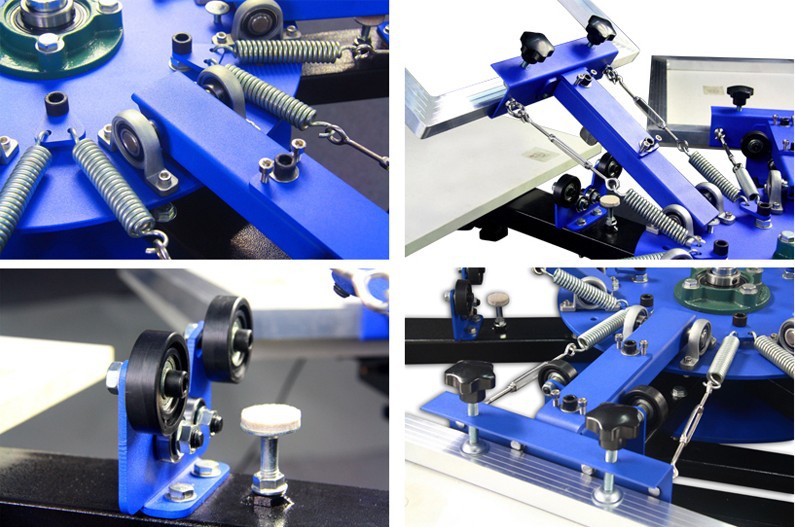 Main Features & Special Functions
It can realize six precise colors in six stations after installation and debugging.
Up-and-down adjustable (77-100cm) foundation can meets demands of people with different statures.
Special design of spring devices in screen adjusting up and down makes it easies for the user operations according to the sizes and weight of the screens, which guarantees proper spring intensity to avoid squeegees expelling and inks splashing in higher intensity and screen unfixing because of higher weight of screen frames and squeegees in loose intensity.
Double fix position device is an initiate design. The upper wheels blocks make it much easier for the pallet support to enter into the fixed position; The small bottom wheel blocks guarantee the accurate position of the pallet support arm and color registers, which brings relaxed but much more accurate printing operation for the users.
Super big foundation and peculiar auxiliary balance foot stands keep it balanced and stable even the ground is not smooth.
Fine adjustment device is easy operated but can mainly guarantee well appressing between screen and pallet, especially for the slightly deformation screen frame or unsmooth contact surface between screen and pallet, which will bring better printing effect.
Composite structure & excellent packaging for convenient transportation.
Advanced electrostatic spraying, elegant appearance, convenient in cleaning and no rust.
Equipped with installation video, manual instruction, full set installing and maintenance tools and spare parts.
Excellent packaging: All our equipments are perfectly packaged by high-strength five-layer corrugated carton, inside with standard soft and hard foam and three-ply board, all metal parts are separately packaged, which guarantees product safety during transportation.

Parameters:
Color:6 color
Station: 6 statio
Items included:
1. 6 color 6 station screen press
2. 6 pcs of pre-stretched 40*50cm screen frames with 120M
3. 6 pcs of 33 cm squeegee
4. 1 pc of 35cm emulsion scoop coater

Your cart is currently empty.