Full set 4 color silk screen printing kit ink emulsion t-shirt printer press equipment UV exposure squeegee
cheonet
Full set 4 color 1 station screen printing kit
If it is not free shipping to your country, please just feel free to contact us for the detailed shipping cost.
There are installation/usage vedios and instructions of all the machines, please feel free to purchase, and if you have problems in your screen printing process, you can also tell us, we will try our best to help you, we provide screen printing assist for Free!
1800W Flash Dryer
Main Features:
1. Foundation is consistent with heating box ,stable, saving-space and overcoming the flaw caused by traditional ""that easily gets knock and stuck.
2. Easy operation: After well installed, connect the power supply and turn on the switch and then it will work automatically.
3. With four universal wheels, easy move.
4. Sturdy design with powder coated housing to prevent rust.
5. Easy assembly. with a few bolts you have a flash that's ready to be put to work.
Parameters:
Input voltage:110V/220v
Power:1800W
Baking area reaches 18"x24" (45x60cm).
Weight:75Lb (34kg)
Crate Dimension: 34"x20"x14"(86x51x36cm)
UV Exposure Unit
Specifications
Voltage: 110V/220v
Exposing area:20" X 24"
Power of light tubes: 160W
Amount of light tubes: 8
Time range: 0s-999s
Crate Dimensions: 33"X25"X11"(840×620×270MM)
Shipping weight: 73LBs (33KG)
Screen Drying Cabinet
Specifications:
Voltage: 110V/220v
Power: 800W
Machine size: 35.5"x23.6"x15.8" (90*60*40cm)
Crate dimension: 36"x25.6"x17.3" (92*65*44cm)
Net weight: 62LB (28KG)
Shipping weight: 81LB (37KG)
Materails and tools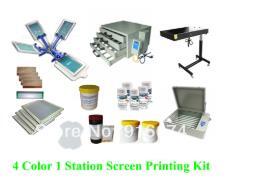 1. 4pcs pre-stretched 40x50cm aluminum frame with 120M mesh. 2. 4pcs 33cm squeegee 3. 1pc 35cm emulsion scoop coater.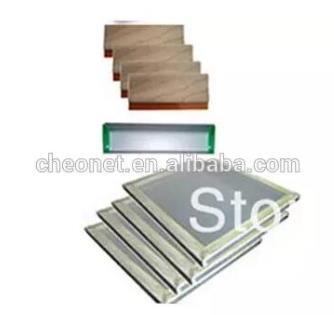 Tags: ink emulsion t-shirt printer press equipment, uv exposure squeegee, uv exposure squeegee wholesale, uv exposure squeegee for sale

If you want to know more products, we have: twin arches 26ft*13ft , 30x50cm pvc heat transfer vinyl , machine labeler packaging equipment

Your cart is currently empty.